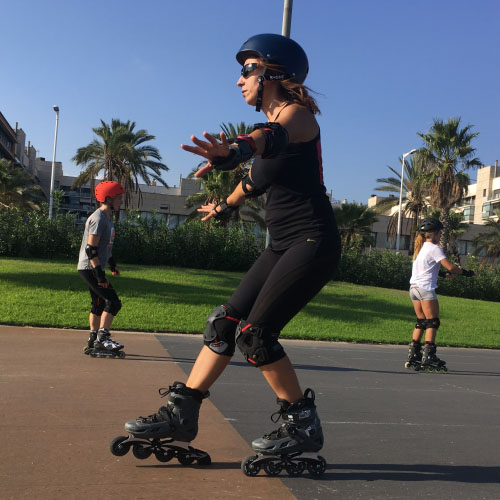 LEVEL 1
This course is aimed at everyone who wants to start their adventure with skates, or those who once rode and want to recall the basics. In Barcelona, we will study in adapted and safe places. In the first phase of learning, we will develop appropriate habits that will allow you to maintain some balance, learn how to speed up, twist and brake. How to avoid falls and fall safely. This level teaches and prepares you to move on your own. In the second phase of learning, we will set off on the seaside promenade, where we will encounter the first urban obstacles on which we will practice city driving. At this level, the trainees will be familiarized with particular areas of roller-skating. Theoretical and practical knowledge gained during the course will allow for a broader understanding of the philosophy of roller-blading.
LEVEL 2
This course is aimed at people who already have mastered the basics of roller skating, and can independently ride on flat surfaces. This level is ideally suited for people who have participated in Night-skating. At this level we will learn the techniques of: acceleration, high speed and effective braking. The basics of fast, slalom and backward driving will be introduced. This course will prepare you to move smoothly around the city, overcoming ramps and exits, and all urban obstacles. At this level, visiting Barcelona and its monuments will be pure pleasure. Classes with instructors from Spain will be an additional challenge. At this level, we will learn and use the city's infrastructure to move as smoothly and as safely as possible through the city.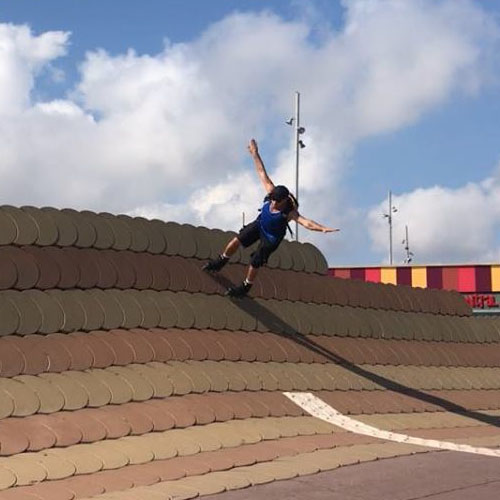 LEVEL 3
The course is aimed at people who have mastered high-level skating and want to further develop their skills. Classes in this group are aimed at the most demanding skaters. Advanced techniques will be introduced: slalom, long-distance driving, jumps, revolutions by 180 and 360 degrees, high-speed reverse braking and performing these manoeuvres on the right and left sides. We will learn how to overcome urban obstacles of varying difficulty. This is the level for people who want to exceed their limits in roller-skating. Instructors from Poland and Spain will watch over your progress. At this level, we will be creative in using urban obstacles to move around in urban conditions as smoothly and as quickly as possible.