SKATE COURSE
On the course is designed to improve skating techniques and at the same time explore the city on wheels. Our routes are arranged to see most of the known sights in Barcelona. Our course is intense and demanding for most participants, however, it is not obligatory, if someone decides that today he does not want to skate or he is tired and wants to spend the day on his own, of course he has the right to do it :) Courses are prepared and adapted to each skill level:
Jak zaczynasz naukę od podstaw, to szkolimy od zera do rolkowego superbohatera.
When you start learning from scratch, we train from scratch to roller superhero:)
If you already have your skills, we'll boost them together even more.
If you want to skate much more than planned 4 hours a day, we will be happy to show you where and when you can meet local groups in Barcelona and skate with them.
The course normally starts on Monday and ends on Friday. Every day we operate according to the pattern: morning session 10:00-12:00, afternoon session 18:00-20:00 + theoretical training, which takes place in spare time, eg during the morning coffee. You fill in the time between sessions on your own. Of course, we offer assistance in advising and informing our guests what, where and how to do in their free time. So that they get to know Barcelona from the side that interests them most.
FRAMEWORK COURSE PLAN
Saturday - arrival to Barcelona. Saturday is a day for accommodation, formalities, familiarization with other guests and for those who want making the food shopping. It is also a day to familiarize yourself with the surrounding area. For those willing, we anticipate a distinctive skating session. In the evening, we will discuss the action plan for the whole week.
Sunday - is the day to settle in. People who do not have their own equipment will be able to rent it in our skate rental. On this day, we anticipate the first skating session, which aims to accurately identify the skills of the individuals and the group . This session will often be combined with integration with the local environment. The first trail will lead you to the sea near the "W" hotel, where guests will be able to feel the atmosphere that will accompany them throughout all days of the course. Beginners will receive first tips, theory and basics will be presented at a nearby training spot. It is the day when we introduce guests to the rhythm of the course. On this day, we also anticipate an evening session or a walk to the beaches, combined with rest and integration of the group :)
Monday - morning session from 10:00 to 12:00 and afternoon session from 18:00 to 20:00.
Tuesday - morning session from 10:00 to 12:00 and afternoon session from 18:00 to 20:00.
Wednesday - morning session from 10:00 to 12:00 and afternoon session from 18:00 to 20:00.
Thursday - morning session from 10:00 to 12:00 and afternoon session from 18:00 to 20:00
Friday - morning session from 10:00 to 12:00 and afternoon session from 18:00 to 20:00. For people who will be properly prepared, we anticipate NIGHTSKATING in Barcelona, ​​which starts at 22:30.
Saturday - cleaning, packing and departure to Poland.
* Depending on the level of the group, the sessions will have different character and will be individually tailored to the individuals, e.g. basic skating training, exercises for improving skating technique, advanced skating techniques, skating tricks, learning how to overcoming urban obstacles, city sightseeing, effective braking, advanced skating, slalom, roller dancing, skatepark skating, etc.
We train with every skating technique: urban riding, slalom, fast riding, skatepark riding, dancing. The course is always tailored to the needs of each participant. We distinguish three basics levels for teaching how to skate:
THREE BASIC LEVELS OF TRAINING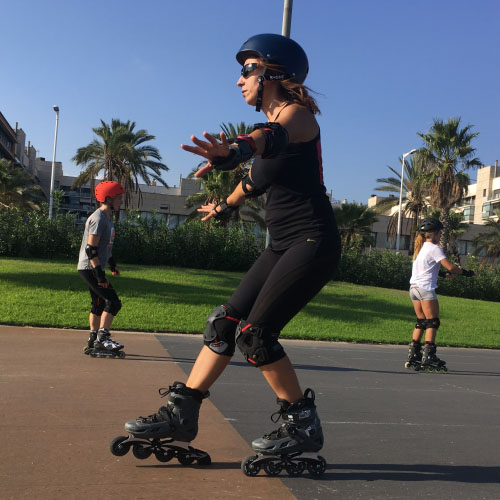 LEVEL I
This course is addressed to everyone who wants to start their adventure with skating, or those who want to recall their skating skills or basics. In Barcelona we will learn in adapted and safe places. In the first phase of learning, we will develop appropriate habits that will allow you to maintain some balance, learn how to speed up, turn and brake. We will show how to avoid falls and fall safely. This level teaches and prepares you to move on your own. In the second phase of learning, we will go on the seaside promenade, where we will encounter the first urban obstacles on which we will practice urban skating. At this level, the students will be familiarized with the basics of skating. Theoretical and practical knowledge gained during the course will allow for a broader understanding of the philosophy of roller-skating.
Expand
LEVEL II
This course is aimed at people who already have mastered skating rides, are able to independently and confidently mix on flat surfaces. This level is ideally suited for people who participated for example in Nightskatings. At this level we will be showing the techniques of: quick acceleration and effective braking, basics of speed skating, slalom, backward skating and 180 degrees turns on both legs and directions. This level will prepare you to skate smoothly around the city, overcoming uphill and downhill, and overcome most of the city's obstacles. At this point skating around the Barcelona and its monuments will be just pure pleasure. At this level, we will learn and use the city's infrastructure to move as smoothly and as safely as possible through the city.
Expand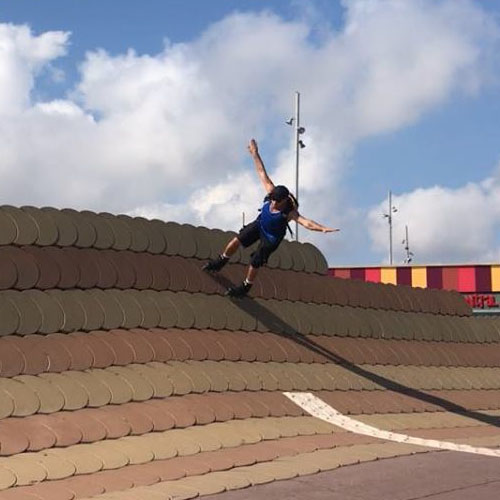 LEVEL III
The course is aimed at people who have mastered riding at intermediate level and want to further develop their skills. Classes in this group are aimed at the most demanding skaters. Advanced techniques will be introduced: slalom, long-distance, jumps, 180 and 360 degrees jumps and spins, high-speed reverse braking and performing these maneuvers on the right and left sides and both legs. We will show how to overcome urban obstacles of varying difficulty. This is a level for people who want to exceed their limits in roller-skating. At this level, we will be creative in using urban obstacles to move around in urban conditions as smoothly and as quickly as possible.
Expand
TOURS BARCELONA
Barcelona is one of the most beautiful and most visited cities in the world. This is the place that you just have to see once in your life. On the internet you can find a lot of articles describing the capitals of Catalonia and showing her beautiful charms. However, we will show you Barcelona from a completely different perspective, which surprises even those who have visited this city several times.
First of all, Barcelona is a place designed for communication for people who move with everything: rollerblades, quad skates, skateboards, longboards, scooters etc. You will quickly see how many people move here in this way - it looks as if the pedestrian transport has evolved;) People just go everywhere and on everything on that has wheels. The surface of the city is very smooth and adapted even to the smallest wheels. The city has a very diverse area from the long and beautiful promenade by the sea to the very sharp hills of the streets in the mountains. This is complemented by an ideal network of cycle paths, where you can go skating with no worries about detention by municipal services;)
Barcelona is, according to the roller-skating community, the best place to practice this type of sports in the world. It is the most friendly city for skaters. That is why they were chosen to organize the largest extreme sports event in the world. WRG - Word Roller Games 2019. More about this and other events and events taking place in Barcelona
You can check more about the events taking place in Barcelona - HERE
DESCRIPTION OF SELECTED SKATE ROUTES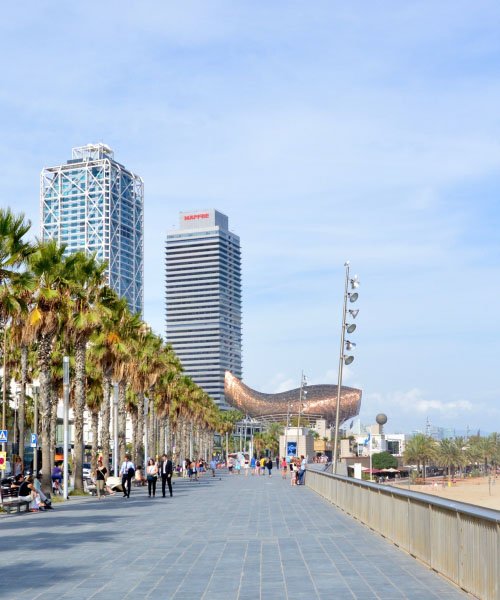 PROMENADA
This is our first and basic route, it's a must-visit on the trip to visit. The beach in Barcelona is teeming with life from May to October. The 8 km promenade along an edge of the sea with an even surface is ideal for skaters with basic driving skills. We will also find here the first urban obstacles such as gentle descents and stairs. More advanced people will treat the promenade as a warm-up before next places. This is a route that from the first pass will lead to the magical atmosphere of the city and this feeling of freedom, which will grow every day.
Expand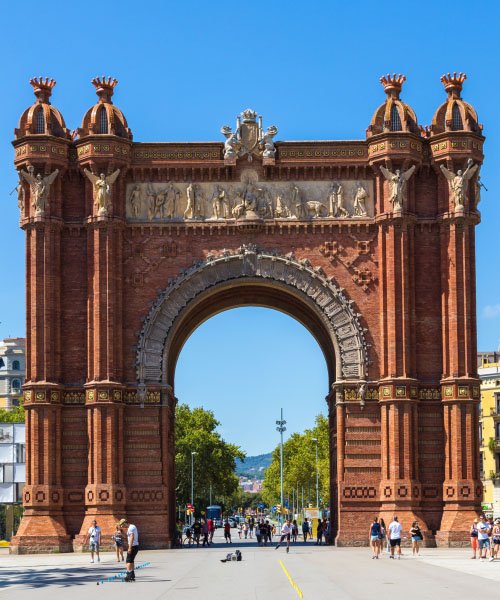 OLD TOWN AND ARC THE TRIUMPH
The second route leads through the main monuments of the old town, shows the center of Barcelona and gets acquainted with nearby cafes and restaurants. The same route changes its character and looks completely different during the day and night. Here you will see how the streets of the oldest part of the capital of Catalonia look alive. The route passes through Plaça Catalunya, Ciutadella Park and Arc de Triumph. This last one is one big skating spot, it is a place of frequent meetings and training skaters from Barcelona, ​​which is also often visited by the best skaters practicing freestyle slalom. Learning slalom at the triumphal arch is pure pleasure. It offers long and wide, even asphalt with densely arranged palms along the whole avenue, on which you can see very spectacular performances making by the best street artists from all over the world. To get here you must have mastered city skating at a basic.
Expand
GAUDI AND SAGRADA FAMILIA TOUR
Route number three enjoys the greatest popularity and leads to the most beautiful cathedral in the world. This is where the true adventure with urban skating begins. Tour to the cathedral is entirely under a gentle elevation. Come through the old town, Plaza Catalunya, Arc de Triumph, Torre Glories towers, to the main attraction, which is of course the Sagrada Familia. Once you reach the place, the view of the cathedral will be a real delight, and the rest in the park next to it will help you regain your strength and prepare for a dynamic easy downhill in real urban conditions. On this tour you will also see buildings like Casa Batllo and Casa Mila and you will get to know the whole range of shops where you can buy something for yourself and souvenirs for your loved ones.
Expand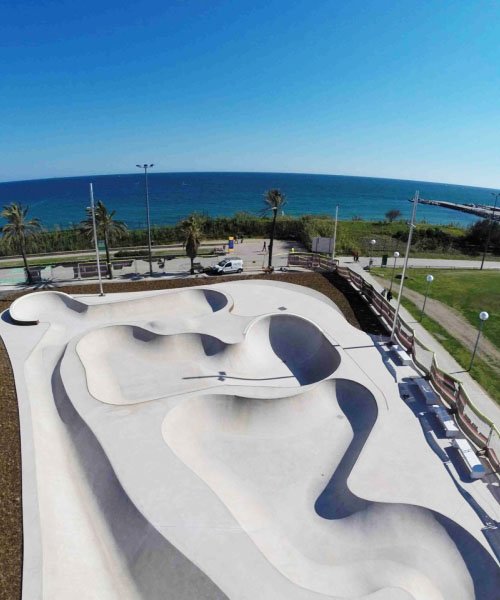 SPOT GARCIA FARIA I SKATEPARK MAR BELLA
Tour number four leads the cult skating spots in Barcelona such as: Parallel, MACBA, Nevermind Bar, Garcia Faria spot or Mar Bella skatepark. It is in these places that every day you can meet the best skaters from around the world. It is a paradise and a challenge for the most advanced skaters.
Expand
Remember that using our services there is no age limit. Our lessons were successfully attended by children, teenagers, adults and seniors. We work with certified instructors who will take care of your safety. It is never too late to learn to drive or explore Barcelona on roller skates and roller skates.